AceMACC 2.0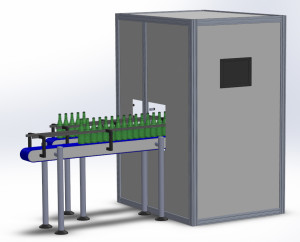 AceMACC 2.0 (Automatic Machine Control Capacity) is an automatic machine ideal for testing glass containers of all shapes. The machine is designed for hollow glass manufacturing companies that need to control the capacity on samples of various types of containers, with the aim of having a control on production.
AceMacc 2.0 has a modular structure and can be customized according to production needs. It consists of a vision chamber where the capacity control test of the containers takes place, through the filling with water and a vision system, thanks to the high modularity, it can be equipped with an input conveyor belt of variable size based on the number of molds of the plant, an output belt for maintaining the sequence, a rotating table or a direct reject.
The machine vision system is managed by a touch monitor that allows to view the acquired images of each individual container, processing inspection statistics and related data, with the possibility of connecting to the factory software.
Automatic machine for capacity/volume measurement of glass containers
Main features

Electric axis for containers translation
High speed Cartesian filling robot with linear motors
3D vision cameras for high resolution centering
Support for filling straw with retraction and emergency stop sensor
Graduated filling straw with zero mark
Centering for every type of glass and container
Optical level sensor
Optional output line: Conveyor belt / Table
Statistics on the monitor
Full HD monitor with keyboard / touch,
Options and commands with simple icons
Storage of all images in compressed images
Remote assistance: the system is set up for remote support via a dedicated VPN connection.

Types of inspection

User fill height capacity measurement
Brimfull capacity measurement
Test report generation

Advantages

3D vision system with high resolution cameras for container position recognition
Possibility of connection to factory management software
Intuitive operation thanks to the simple and touch interface
Reports generated according to industry regulations
Production under control and satisfied end customers
Low-cost life cycle
also in: Italian