Glass
In the glass sector, artificial vision technologies are adopted to control the quality both in the laboratory and the related production processes as they are diversified and complex.
AceLabs artificial vision systems are applied in flat glass sectors (automotive, home appliance, architectural appliance), allowing to analyze the integrity of the glass, the relative serigraphy and the reading of codes or logos. In hollow glass, (bottles in general), AceLabs systems measure the capacity of bottles or containers of all types for glassware and beverage or food producers and reading of codes or verify the integrity of the containers.
Possibile applications:
Three-dimensional reconstruction of surfaces, measurements without contact, continuous material control (bottles, containers), robot guide, quality control in packaging, quality control of silkscreen printing and verification of variable data, reading and verification of codes in general (text, barcode, datamatrix etc.).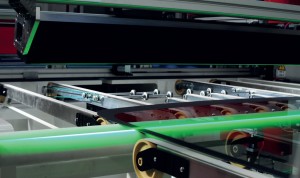 List of products for the glass industry:
also in: Italian