From the idea to the machine in use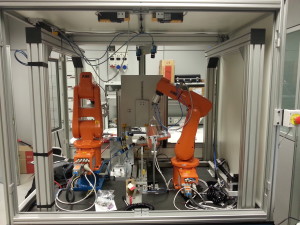 The business operation for the purpose of a better management consists of five well-defined phases, from the inspection at the customer's plant to the final test, translated into a "Customer Oriented" process to follow the customer's production and quality requirements. AceLabs provides integration of the individual systems with the entire IT organization and management of its customers, including the systems of control and oversight.
AceLabs supports its clients in the analysis process, providing them with a service consulting and continuous side by side in the strategic decisions related to the production cycle.
A customer oriented process
Needs study

Initial phase of analysis with the customer, the needs are assessed with an inspection in the plant, we evaluate the real possibility of adopting a vision system to understand how to better integrate the technologies in production.

Together with the customer we analyze the various solutions, proposing the most advantageous from the point of view of the plant as a whole.

Technical/economic analysis

Technical / economic analysis

At this stage, as a result of the needs identified, it is formulated by the sales department with the collaboration of the technical office, an economic technical proposal without any commitment for the customer.

In the proposal, a technical description of the proposed system or machine is presented with the related components and delivery times defined together with the customer.

Design and construction

Mechanical production phase and software design, thanks to the close collaboration between the production department with CNC machines and the IT department, the algorithms for the vision system are chosen and designed, built on the specific mechanics and on the inspection requirements.

AceLabs following the many years of experience in the design of artificial vision algorithms, boasts a vast internal library.

Installation and testing

Once the internal production of the system/machine is terminated and internally tested, AceLabs delivers and installs, interfacing all the components with the customer's infrastructure.

The most important phase is the calibration and the final testing, after specific tests carried out in the presence of the customer and after verifying the correct program functions, the test is signed and released to the customer for final use.

After sales assistance

The service of AceLabs does not end with the delivery, but the goal is to follow the customer with an highly qualified technical assistance service.

Among the services included there are: the guarantee on the functioning of the product, the warranty on the components and the technical assistance activities.

AceLabs offers its customers, for the period after the warranty coverage of the products, different types of service and maintenance contracts (scheduled, in token or custom).

Depending on the specific needs, AceLabs is able to offer the maintenance of a dedicated spare parts warehouse that guarantees immediate procurement times for companies operating in a continuous cycle.
also in: Italian