Check installation/assembly/coupling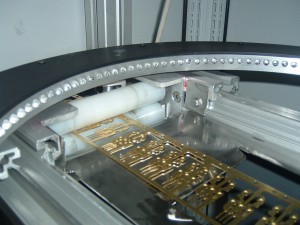 System developed to verify the correct execution of both the blanking plates of brass for the production of electrical parts, both the punching of the respective plots.
The system is equipped with a viewing chamber containing a series of light sources suitably placed, which, thanks to an appropriate illumination allows to detect defects by comparing the sample image of a piece properly executed to that of the piece to be checked out of the veneer. The pieces correctly products achieve a null result, while the presence of defects in the operation of comparison proves defective areas.
In output, the vision system produces a series of electrical signals of the digital type, such as:
a signal indicating that the vision system is in operation;
an instant signal abnormality, which is raised whenever the system detects a defective part;
a fault signal continuously, which is raised only after the detection of a number of consecutive defective parts or a certain percentage of defective pieces compared to normal ones.
Optionally, the system can also be equipped with a video interface for the operator that allows:
the configuration of the parameters of the machine (for example: size thresholds of anomalies, continuous number of pieces needed to raise the fault signal continues, the type of piece to be inspected, etc.);
the real-time display of the outcome of the inspection, and any statistical information.
also in: Italian