Robot Guidance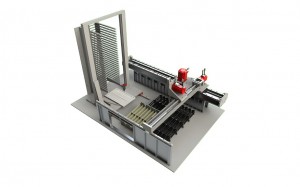 This system meets the needs of those who want to reduce a great deal of resources and improve processes.
Here are the prerogatives of AceSlideSorter, an artificial vision system that performs the pick-up and automatic sorting of glass slides from the trays to place them in an orderly manner to the case and sequence number, in addition to generating appropriate working relationships in order to interface with the systems information of hospital laboratories.
also in: Italian
Specifications

performs automatic sorting of glass slides for microscopy based on a code shown on them;
code printed on the glass slide allows to identify the patient and a possible progressive glass slide for the given patient;
the codes are written with coding or data matrix barcode label located on the side of the glass slide;
it is supplied with the glass slides placed on suitable standard trays (290x190mm, 20 glass slides 25x60mm);
the system is capable of accommodating 25 stacked trays on a rack for a total of 500 glass slides for each load;
output in the glass slides are inserted into the magazines from store in the vertical position.