Read /verify adequacy codes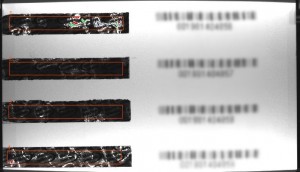 It is a system for monitoring the application of adhesive labels scratch-off intended for masking sensitive information (PIN codes of ATM / credit cards) printed on a single A4 sheet in bank documents and be able to verify that all sheets are properly processed.
The system is equipped with a matrix camera can capture the image of the document in the area affected by the application of the label and aslo performs the reading and decoding of a code bar-code printed on the document itself, containing the information sequence of the sheet.
The system is thus able to detect the correct application of the label scratch-off within certain tolerances positional relative to the edges of the document, togheter with the verification of the correct sequence of the sheet.
Following the detection of an error, the system will give warning to the operator by the graphical interface and is equipped with:
digital outputs for interfacing with control systems of the customer;
column semaphore signaling.
also in: Italian