AceMACCLite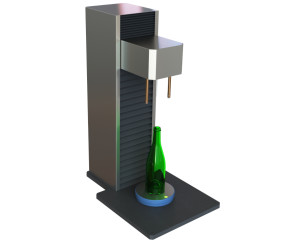 AceMACCLite is a semiautomatic bench test machine that allows carrying out capacity tests on manually positioned containers. The test is performed automatically thanks to a Cartesian robot and a filling straw, to minimize errors due to the operator and have objectivity and repeatability in the tests.
AceMACCLite is positioned halfway between AceMACC2.0 and MACC Manual in the AceLabs offer of capacity/volume measurement machines. The solutions have the same processing software, what changes are the size and automation.
The machine is designed for quality control laboratories of companies that produce containers of different materials such as glass, PET and cans.
Semiautomatic machine for capacity/volume measurement
Caratteristiche principali

Container capacity: minimum 80ml / maximum 3000ml
Container height: minimum 50mm / maximum 400mm
Container diameter: minimum 40mm / maximum 180mm
Maximum container weight (at the end of the test) 10000g
Maximum level dimension 130mm
Automatic filling system
Touch display
Support for filling straw with retraction and emergency stop sensor
Graduated filling straw with zero mark
Pump for filling control
Flow sensor
Water temperature sensor with extended range
Software correction of the separate mouth satin by article
Optical level sensor
Laser container mouth sensor

Types of inspection

User fill height capacity measurement
Brimfull capacity measurement
Test report generation

Advantages

Small size
User-defined fill level
Automatic compensation of water temperature and density
Possibility of connection to the factory management software
Intuitive operation thanks to the simple and touch interface
Reports generated according to industry regulations
Cartesian filling robot
Low running costs
also in: Italian